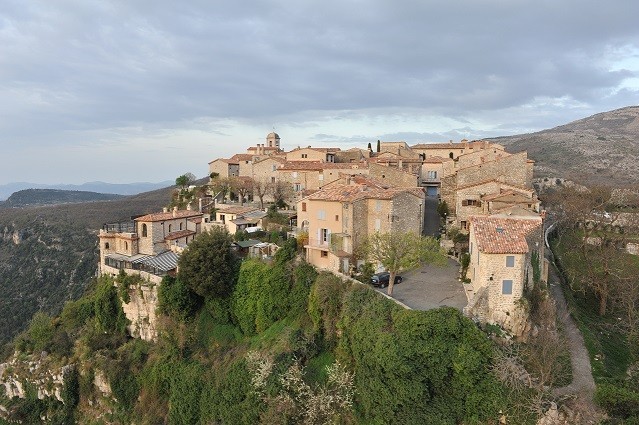 Eagle Nest on The Riviera
Listed has one of the most beautiful villages in France, Gourdon, a medieval fortress overlooks the green Loup Valley.
Queen Victoria, the main square "Place Victoria " , listed in 1940, reveals an exceptional panorama. The view covers 80 km of coast line from Nice to Théoule.
Nested in the Valley of scents and flavors, the village with its Roman Church dating from the 12th century,has managed to keep its authenticity.Lively narrow side streets, typical Provencal architecture and numerous craftsmen make the village one of the most famous destinations for locals and tourists alike.
From "Place Victoria" one can admire the renown French Riviera. From Spring to Winter, from dawn to dusk, the forever changing light and colors offer a grandiose scenery.
At sunrise, looking towards the horizon where sky and sea become one entity, you can distinguish the island of Corsica.
On your left, looking eastwards, Nice, the Var estuary, Cagnes sur Mer , Antibes and its cape shape the panoramic view. On your right looking westwards, the view stretches from Juan les Pins, les iles de Lérins , the bay of Cannes to go as far as St Tropez and l'Estérel.
Below looking downwards, you can see the ancient Donkey trail that once used to be the only access to the Village.
On the left side of the square, looking north you can see the beginning of Les Gorges Du Loup, and below the hamlet of Pont du Loup. Look closely and you will see 3 pillars in the Pont du Loup. These pillars are the remains of a train track, linking Grasse to Italy.
Still looking Eastwards, you cannot miss Le Pic de Courmettes reaching 1300 meters of Altitude.
Looking south you can clearly distinguish the very fertile Valley of "Le Loup".From the high Mountains to the Valley, the River then meets the Mediterranean sea in Villeneuve Loubet, 30 kms from Gourdon.
Still looking south you can notice the last few villages before the Coast Line, Roquefort Les Pins, Mougins , Castellaras and the lovely and authentic village of Bar sur Loup.
On your right, a little closer, a large and barren plateau, a wooded area and a deep canyon close the panoramic view.
Pour retrouver toutes nos brochures cliquez ici
 
Pont du Loup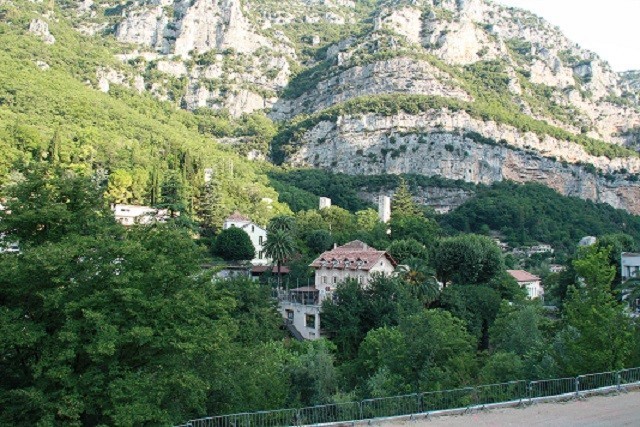 Altitude: 230 m
In the late 19th century Gourdon extended its frontiers to the hamlet of Pont du Loup, in the Loup Valley. Pont du Loup with its spectacular railway bridge, linked to Grourdon by a steep donkey trail "Le chemin du Paradis", offered a peace haven and an ideal climate for orange and olive groves as well as other plants used in the perfume industry.